Hotels
Whilst in Diani, you can choose to either stay in an hotel, cottage, guest house or apartment, depending on your length of stay and/or budget.
The hotels on Diani Beach are world class establishments and have almost every facility imaginable.
We live here, we know the area, let us help you arrange for the perfect accommodation for that special holiday.

---
The Sands at Nomad. Opened Nov 2005. The coast's first 'Boutique' hotel. Set on 225 meters of pristine greensward.
A unique fusion of hand-carved mahogany, soaring sail-work, classic Venetian 'stucco' and traditional Swahili architecture and 25 acres of indigenous coastal forest,.
Centered upon a 5 meter-deep futuristic pool with central gazebo and an atmospheric lounge with a shaded al fresco Jacuzzi terrace,
a Romanesque bar, a boutique and global connectivity centre. Deep in the forest shade is a massage and nature treatments salon.
In keeping with the world-class style and innovative panache of the hotel's conception, the accommodation comprises an individualistic
selection of 18 comfortable rooms, 7 exclusive beach cottages and 12 luxurious suites, many with private Jacuzzis..
The resort also offers the Red Pepper restaurant serving traditional kenyan/swahili cuisine.

---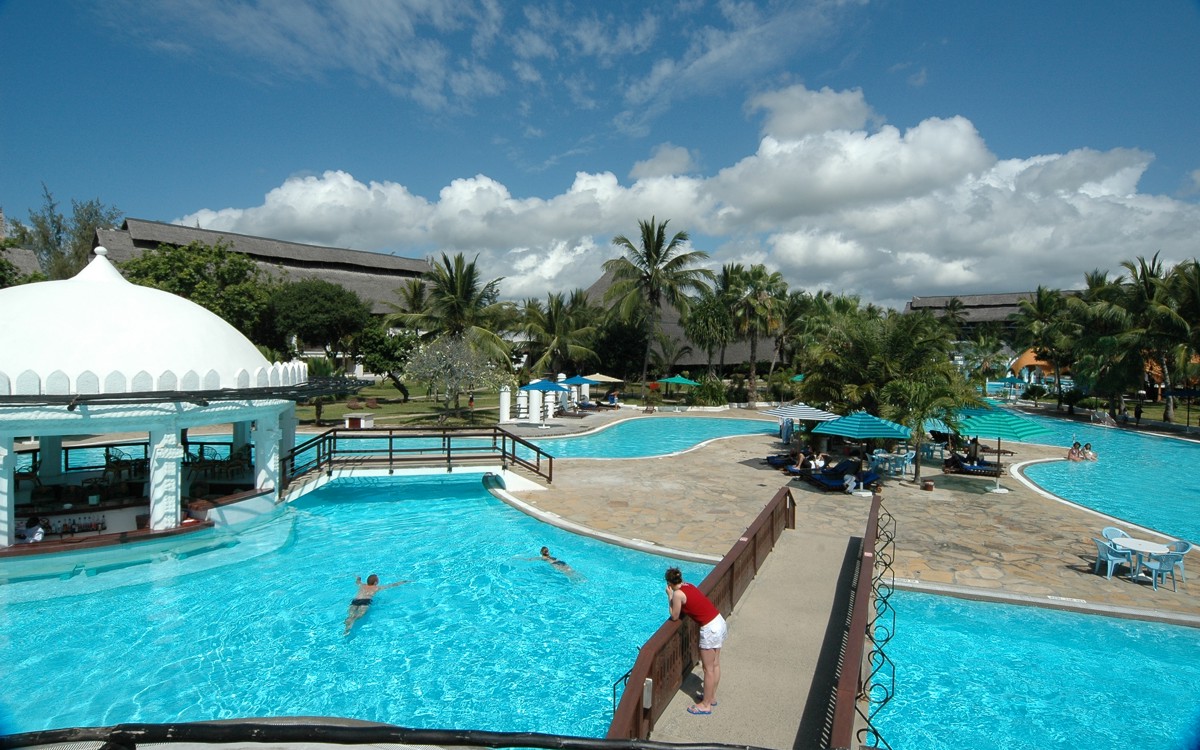 Southern Palms Beach Resort Southern Palms is situated on the beautiful white sandy shores of the south coast.
This 300 rooms 4 star resort has it all! Fitness, sports, diving, fishing, tennis courts, squash courts,
Business centre, two large pools make one of the biggest in eastern Africa….and much more. 4 restaurants, 5 bars and a beach front to die for!

---
Spice of the coast. Luxury Bed & Breakfast cottages set just 800 meters from the white sand beaches of the Indian ocean,
in Diani Mombasa south coast 'this is paradise once the majestic doors of spice of the coast have closed behind you , you have entered into a different world.
A world of tranquility and privacy forget the world you left behind and let your fantasies flow freely in paradise.
Our cottages are spacious, romantically decorated with soft lights from coastal lamps, and a mixture of old and modern African art.
Well hidden in our mature garden, full of indigenous as well as fruit trees it will remind you of Adam and Eve in their garden of Eden.
Stroll in the gardens, take a dive in the pool, a cocktail where ever you want, enjoy our Kenyan kitchen with a European twist,
or visit our well stocked bar in the main house the perfect hideaway for two. Enjoy the sundowner and the magical
African skies and let the meandering footpaths, lit with oil lamps and candlelight lead you into your perfect night
Reservations reservations@dianibeach.com
---
Water Lovers. Opened August 2008, Water Lovers is a quaint beach resort on the tropical shores of the Indian Ocean.
White sands and turquoise warm waters are the perfect setting for a holiday in paradise by the ocean.
The hotel accommodates eight very spacious rooms, a self-contained villa and a swimming pool.
Every room has a spacious private veranda overlooking the ocean and the style of the interior design is a blend of Swahili culture and Mediterranean style.
The deluxe ocean view villa can accommodate as many as eight people and it is equipped with a fully furnished kitchen.
The centre piece of our beach restaurant is the turtle-shaped infinity pool, where we are happy to serve our guests a bespoke cuisine combining
Mediterranean recipes with local ingredients, while they can enjoy the quiet surf of the Indian Ocean just a shell throw away.
For reservations: reservations@dianibeach.com

---
Flamboyant is a family home where guests return time and again for its unparalleled service in an intimate and friendly atmosphere.
Set in a lush tropical garden, overlooking the beautiful beach of Diani on the south coast of Mombasa,
Flamboyant is the perfect retreat for an exotic and a romantic escapism. The family home has 10 bedrooms only all en-suite, among 8 of them overlook the ocean.
A superb and large swimming pool, a luxurious garden offering space and privacy, a beach gazebo for an intimate candlelit dinner.
Wi-Fi connection complimentary. Welcome to Flamboyant! Reservations reservations@dianibeach.com
---
Leopard Beach Resort & Spa. This superbly renovated Beach Resort & Spa on dazzling Diani Beach is the epitome of Swahili style luxury,
international cuisine and endless leisure choices set in splendid, extensive, tropical gardens. An ideal travel destination for incentives,
it also boasts an adventure centre offering lots of activities and a multifaceted conference centre for those who like to do business in a stunning location.
Having been voted by the readers of the well known Travel News & Lifestyle Magazine for three consecutive years as THE leading resort on
Kenya's coast clearly reflects the hotel's manifold facilities and services. The resort is widely acclaimed as a trendsetter with beautiful cocktail bars,
a Chaine des Rotisseurs grillroom, a poolside bistro and juice bar, a beachside pizzeria, nightly entertainment, a cybercafé as well as boutiques.
With accommodation comprising 'chui class' cottages and honeymoon suites with breathtaking ocean view, sea facing superior
and garden view standard rooms, this resort has set standards in Kenya's coast tourism.
The year 2006 saw the addition of the UZURI SPA & FITNESS FOREST with an additional pool complimenting sports
animation, a water sport centre, tennis court and an 18 hole golf course nearby.
Reservations reservations@dianibeach.com
---
Diani Reef Beach Resort and Spa Nestled in the pristine white sands of the South Kenyan coastline overlooking the turquoise blue Indian Ocean,
the luxurious and exclusive Diani Reef Beach Resort & Spa is all set to welcome the discerning American, African and European tourists along
with the upwardly mobile long haul overseas traveller from Asia. Diani Reef Beach Resort & Spa offers 143 bedrooms comprising of doubles,
twins, deluxe, inter-connecting rooms, a selection of suites and Presidential suites – each of them an elegant statement of style and comfort.
For the connoisseurs of luscious food, the Diani Reef Beach Resort has three restaurants, each of which possesses its own distinctive character.
The May Spa at Diani, the exclusive Spa destination in East Africa provides an uncompromising approach to cater to a guest's beauty, well being and health requirement.
This exclusive Five Star Deluxe Resort is the only African hotel that had been invited to display and market Kenya at the Style 2006 Pre Emmys Garden Party held at Rodeo Drive, Beverly Hills.
Reservations reservations@dianibeach.com

---
Shimoni Reef Lodge : Private, relaxed and very comfortable. Some guests come to visit the fantastic marine reserves and islands,
dive and snorkel, some to sport fish, others to just relax in a totally private atmosphere with ocean views of islands and the forests nearby.
Many just pass the time spotting dolphins from the balcony , monkeys in the trees, birds all around, and a splendid fleet of dhows
sailing past mornings and afternoons, with the wind in their sails .The local cuisine is famous for the fresh sea food available every day.
Reservations reservations@dianibeach.com
---