Safari Camps

......
---
Royal African Safaris Royal African Safaris helps you to immerse yourself in Africa's fast changing but ancient world, where traditional cultures, spectacular wildlife and unparallel landscapes collide. For more than two decades our owner guides have bought generations of experience to bear on leading authentic tailor made safaris throughout the continent. You travel to the most remote and beautiful areas, staying in exclusive tented camps or hand picked lodges- at one with Africa, it's people and it's prolific wildlife, guided by people who have devoted their lives to Africa and it's conservation.

---
Satao Camp In the famous Tsavo Game Park. This will make the most memorable of all African holidays. Situated in luxury tents around a unique wildlife watering hole. Satao offers the African bush in real style. I have personally seen more than 200 elephant in one day from this great camp. Safari was never meant to be uncomfortable.
At time of booking confirm you would like dianibeach.com special rate and you will be entitled to 15% Discount off the current published rates. This offer Excludes Christmas, new year and public holidays.

---
Satao Elerai Wake up in the coolness of the early morning and watch the first few rays of the sun hit the blue Mt. Kilimanjaro, Africa's greatest mountain. Satao Elerai is an eco friendly luxury camp tugged away in the corner of the famous Amboseli Ecosystem, close to the famous Amboseli National Park. Satao Elerai represents 5 luxury suites and 9 charming canvas tents. The gorgeous lodge style suites feature gently sloping organic walls, built with natural rocks, acacia wood and a carefully constructed thatched roof; large sliding doors opens up to a private verandah overlooking the plains of Elerai Conservancy and the Amboseli National Park. Each suite has a spacious bathroom with private view of the surroundings, hand crafted bathtub, shower, flush toilet and hand wash basin. On clear and starlit nights the moon will cast its light on the mountain giving the perfect settings for a romantic dinner. Our chefs prepare a wide variety of international dishes to suit all tastes; using locally grown vegetables and fruits. Dinners are served a la carte and we are always happy to meet any special requirements. For guests going on a long morning or a full day game drive picnic baskets are provided. Satao Elerai arranges bush dinners at carefully selected areas. The camp has its own waterhole frequently visited by elephants, giraffes, zebra, lesser kudu, eland and the big cats.
At time of booking confirm you would like dianibeach.com special rate and you will be entitled to 15% Discount off the current published rates. This offer Excludes Christmas, new year and public holidays.
---
Southern Cross Safaris If you want to indulge in the ultimate luxury, our connoisseur packages are for you. We can create special holidays for the most sensitive tourist, organizing your private travel and offer accommodation in a range of 5 star properties. With connoisseur, you can travel from lodge to lodge or from camp to camp in the exclusive luxury of our four wheel drive Land Cruisers, complete with your own butler service or in our own private 6-seater aircraft. We will organize an individual itinerary including tailor-made road and air packages, using privately chartered jets and luxury vehicles to give you the greatest flexibility. This ensures all your safari drives fit in with your desired time schedules and routes. ...

---
African Safari camps. A complete guide to the safari camps on the African continent. This web portal is growing daily with currently over 220+ camps to choose from in ten different countries. A real treasure chest of wildlife and living in the bush. Camps ranging from the cheapest to the most luxurious are on this fabulous site.

---
Governors camps Probably the most famous of all safari camps in Africa. Governors offers unrivalled luxury and game viewing in the Maasai Mara game reserve. Download their electronic brochure here. 900kb

---
Mfangano Island Camp - A charming Island hideaway on Lake Victoria A perfect family getaway with unique activities for all generations Gorgeous pool, watersports, walking, cave paintings, fishing, birding, local culture, unspoilt fishing villages or chill out in the beautiful gardens witnessing the enchanting life of the lake 6 stunning ensuite rooms, recently refurbished, set right on the lake shore Great Host and Great Food.

---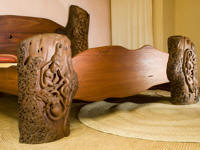 Funzi Furniture Unique one off handmade furniture from Kenya. Specializing in the supply of one off pieces to the safari camp and lodge sector.
---